Invited Speakers
Dr. Luca Bertolaccini, MD PhD FCCP
Division of Thoracic Surgery, IEO, European Institute of Oncology IRCCS, Italy
---
Speech Title:
Preoperative and Postoperative Risk Classification in Synchronous Oligometastatic Non-Small Cell Lung Cancer
---
Dr. Jinwei Zhang
Institute of Biomedical and Clinical Sciences, Medical School, College of Medicine and Health, University of Exeter, UK
---
Speech Title:
Targeting the WNK-SPAK/OSR1 Pathway and Cation-Chloride Cotransporters for Diseases Therapy
Abstract: The SLC12 family of cation-chloride-cotransporters (CCCs) comprises of potassium chloride cotransporters (KCCs)-mediated Cl- extrusion and sodium potassium chloride cotransporters (N[K]CCs)-mediated Cl- loading. The CCCs play vital roles in cell volume regulation and ion homeostasis. In recent years, there have been considerable advances in our understanding of CCCs control mechanisms, particularly via the pathway containing the with-no-lysine [K] (WNK) and its downstream target kinases, SPS/Ste20-related proline-alanine-rich kinase (SPAK) and oxidative stress responsive 1 (OSR1) and their upstream E3 ubiquitin ligase complex comprising Kelch-like 3 (KLHL3) and Cullin 3 (CUL3), which has led to the discovery of novel inhibitory molecules. Our work has subsequently led to the development of a drug-like molecules targeting WNK-SPAK kinases, for the treatment of human diseases, e.g. Hypertension, Stroke etc..

Keywords: Cation-chloride-cotransporters; CUL3/KLHL3-WNK-SPAK/OSR1; Kinase inhibitors; Hypertension and Stroke

---
Dr. Orestis Ioannidis
4th Department of Surgery, Medical School, Aristotle University of Thessaloniki, General Hospital "George Papanikolaou", Thessaloniki, Greece
---
Speech Title:
Use of indocyanine green fluorescence imaging in the extrahepatic biliary tract surgery
Abstract: Cholelithiasis presents in approximately 20 % of the total population, ranging between 10% and 30 %. It presents one of the most common causes for non malignant surgical treatment. The cornerstone therapy is laparoscopic cholecystectomy, urgent of elective. Laparoscopic cholecystectomy is nowadays the gold standard surgical treatment method, however bile duct injury occurred to as high as 0.4-3% of all laparoscopic cholecystectomies. The percentage has decreased significantly to 0.26-0.7% because of increased surgical experience and advances in laparoscopic imaging the past decade which have brought to light new achievements and new methods for better intraoperative visualization such as HD and 3D imaging system. However, bile duct injury remains a significant issue and indocyanine green fluorescence imaging, mainly cholangiography but also angiography, can further enhance the safety of laparoscopic cholecystectomy as it allows the earlier recognition of the cystic and common bile duct, even in several times before dissecting the Callot triangle. Fluorescence cholangiography could be an ideal method in order to improve bile tree anatomy identification and enhance prevention of iatrogenic injuries during laparoscopic cholecystectomies and also it could be helpful in young surgeons training because it provides enhanced intraoperative safety, but however this method does not replace CVS. Finally, our ongoing current study results comparing intravenous to direct administration of ICG in the gallbladder will be presented.
Keywords: Indocyanine Green (ICG), Fluoresence, Image Guided Surgery
---
Dr. Kangning Ren
Associate Professor, Department of Chemistry, Hong Kong Baptist University, China
---
Speech Title:
Novel microfluidic approach for phenotypic antimicrobial susceptibility testing
Abstract: Antimicrobial resistance (AMR), a phenomenon where microbes become resistant to antibiotics, is greatly sped up by misusing antibiotics in modern healthcare system, as well as in the environment by overusing antibiotics in animal husbandry, etc. By measuring the resistance of pathogens in a sample to different drugs, antimicrobial susceptibility tests (ASTs) can effectively reduce the misuse/overuse of antibiotics. However, AST is not widely adopted in practice because of the significant limitations of current methods, such as low speed and low efficiency of conventional methods, and high cost of advanced methods, not to mention the infeasibility in polymicrobial AST and drug combinations. Herein, we present a two-stage culture-based AST strategy based on microfluidic technology. For the first stage, we developed a "barcode" microfluidic system which can perform rapid AST at low cost with minimal requirement on facility environment. This method can be used to screen samples onsite within 3 hours to report suspected samples containing drug-resistant bacteria, which can be sent to advanced laboratory for further analysis. For the second stage, we developed a "cell-on-gel" technology for advanced AST. This design generates a stable linear 2D gradient of drugs along a hydrogel chip surface, which can be used to test the synergistic effect of drugs and perform polymicrobial AST of mixed bacteria without pre-isolation. Based on single-cell imaging analysis, AST can be completed within 3 hours. In this way, our two-stage platform can realize both on-site mass screening of AMR at low cost, and advanced AST in testing laboratories.

Keywords: antimicrobial resistance, antimicrobial susceptibility test, barcode, microfluidic device, point-of-care.

Acknowledgements:
This work was supported by NSFC (81973288, 51773173), HKRGC (12301720, T12-201/20-R, RMGS 2020_4_01), and SZSTC (SGDX20190816230207535).

---
---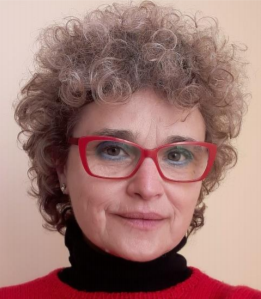 Dr. Lucia Marcocci
Associate Professor
Department of Biochemical Sciences "A. Rossi Fanelli", Sapienza University of Rome, Italy
---
Speech Title:
---
Dr. Camillo Porcaro
Professor, Department of Neuroscience and Padova Neuroscience Center (PNC), University of Padova, Italy
---
Speech Title:
---
More details will be updated...